I've been getting a lot more requests for Ab focused workouts so I've got a great one for you to try below.  Your abs will be burning in no time!  Enjoy your free workout.  🙂
10 Minute Ab Sculpt Workout
Repeat 3 times without rest
1) Rocking Plank - 30 sec
2) Push Up - 30 sec
3) Plank Walk out - 30 sec
4) Side Plank - 45 sec each side (90 seconds)
5) Spiderman Mountain Climber - 20 Sec
For beginner's - rest and hydrate as needed.
Products I Love
I found a new skin care product that I am really loving right now.  It is called Bare Minerals Active Cell Renewal Serum.  Every time I use it  - I feel like my skin looks more hydrated and radiant in the morning - a lovely result!  You can find it online or at a Bare Escentuals store.
Recipe Corner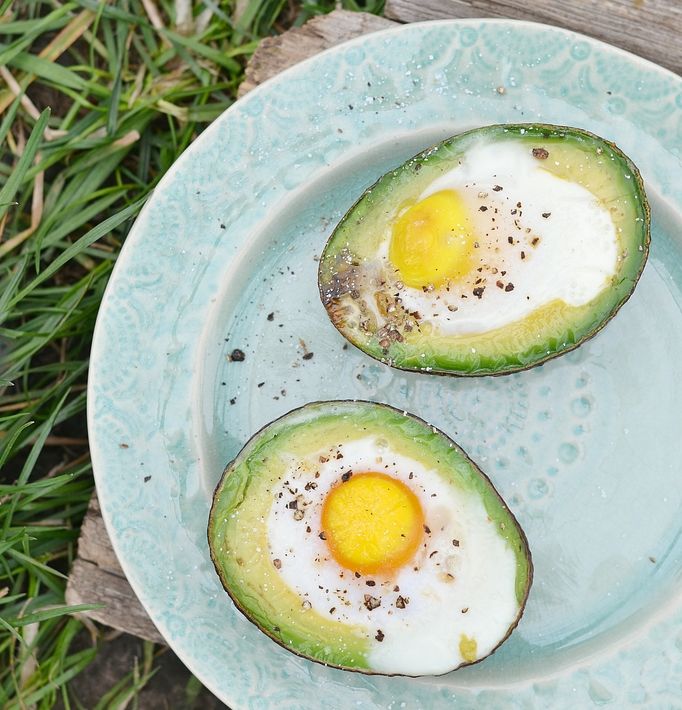 Egg in an Avocado
You've probably seen photos of this amazingness floating around the Internet. It's so ridiculously simple to make, and so full of good fats and protein, you'll wonder how you never thought of it yourself.
Ingredients:
1 avocado
2 eggs
salt and pepper
half of a lime
How To Make It:
Preheat your oven to 450F.
Cut each of the avocados in half and take out the pit. Scrape out just enough avocado until you can fit a cracked egg in there (about 1 1/2 tablespoons). Place each half cut-side up on a baking sheet.
Squeeze some lime juice over the avocado and sprinkle with salt, then crack a whole pastured egg into the space in each avocado. Sprinkle each egg with freshly-ground black pepper.
Bake until the whites are white but the yolk is still runny, between 10 and 12 minutes. If you like your yolks harder, cook them for longer
Click here for more yummy breakfast recipes
​